Historically, the Byzantine Empire was known for its intricate politics and backstabbing strategies. A "Byzantine Failure" in computer science is a term derived from this empire, symbolizing a system's inability to prevent failures due to treacherous or unreliable components. In essence, it refers to the challenges systems face when some of their components become unreliable or malicious. Discover a practical example of blockchain technology on bitqt-app.com, a leading online trading platform that leverages the principles of consensus.
The Byzantine Generals Problem: A Modern Parable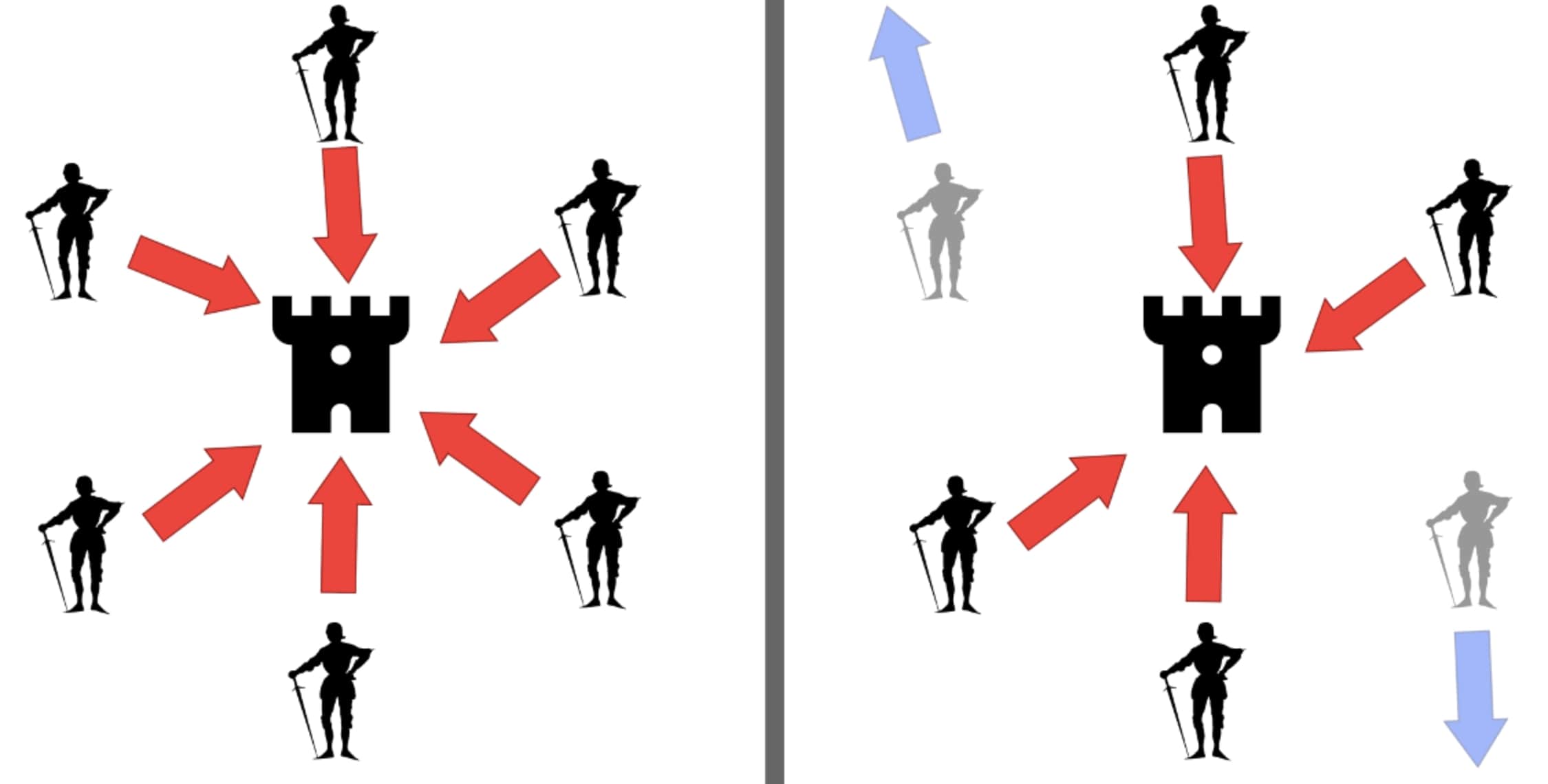 Imagine a city besieged by multiple divisions of an army. The generals leading these divisions must decide unanimously whether to attack or retreat. They communicate only by messengers, who could be intercepted or corrupted. The challenge is: how can the generals ensure they reach consensus, even when some generals might betray the others?
In distributed computer systems, this parable reflects the real issue of achieving consensus, especially when nodes (or "generals") might provide misleading or contradictory information.
Real-world Consequences of Byzantine Failures
Byzantine failures in the digital realm have serious implications. Think of an airline reservation system where inconsistencies could lead to overbooked flights, or banking transactions where discrepancies might result in incorrect balances. In these scenarios, the integrity and consistency of data are paramount, and Byzantine failures can lead to monetary losses or worse.
Solutions Before Bitcoin
Long before Bitcoin, consensus algorithms like Paxos and Raft were designed to prevent Byzantine failures in closed or permissioned networks. These systems require participants to be known and vetted. While effective, these traditional solutions are not fully suited for open networks where participants remain anonymous, as in the case of cryptocurrencies.
Bitcoin: A Novel Solution to an Old Problem
Bitcoin introduced a groundbreaking consensus mechanism called Proof-of-Work (PoW). Instead of relying on trust, it used computational power. Miners compete to solve complex mathematical problems, and in doing so, validate and add transactions to the blockchain. This ensures that even if some participants act maliciously, the system remains secure as long as the majority behaves honestly, backed by their computational investments.
Advantages of Bitcoin's Solution
The brilliance of Bitcoin's design lies in multiple facets:
Decentralization:

Traditional systems have centralized points, which, if compromised, can collapse the system. Bitcoin's decentralized nature eliminates this vulnerability.

Trustless consensus:

Participants don't need to trust each other, just the underlying mathematics and code of the system.

Economic incentives:

Miners are rewarded with bitcoins for validating transactions. This creates an incentive to act honestly, as cheating the system would require a prohibitive amount of resources with uncertain gains.
Criticisms and Limitations of Bitcoin's Solution
However, like all systems, Bitcoin's PoW has its detractors:
Energy Consumption:

Mining requires significant computational power, leading to criticism about its environmental impact.

Centralization Concerns:

Over time, mining operations have become more sophisticated, leading to concerns that only a few major entities might dominate the mining landscape.

Scalability:

The Bitcoin network has faced challenges in processing a high volume of transactions quickly, leading to debates about its scalability.
Alternatives and Evolutions: Beyond PoW
In response to some of Bitcoin's challenges, newer consensus algorithms have been proposed:
Proof-of-Stake (PoS):

Instead of relying on computational power, PoS relies on the amount of cryptocurrency a participant holds and is willing to "stake" or lock up as collateral.

Hybrid Systems:

Some networks are exploring a combination of PoW and PoS to leverage the benefits of both.

Layer-2 Solutions and Sharding:

To improve scalability, techniques like sharding (dividing a database into smaller, more manageable pieces) and layer-2 solutions (building secondary frameworks on top of the primary blockchain) are being developed.
Implications for the Future of Distributed Systems
Bitcoin's solution to the Byzantine General's Problem is more than just a cryptocurrency mechanism. It has ushered in a new era of distributed systems design. As decentralized technologies become more integrated into our digital infrastructure, understanding and refining consensus mechanisms will be paramount.
Conclusion: The Enduring Legacy of Byzantine Generals
The Byzantine Generals Problem, an age-old challenge, has found its contemporary solution in the world of cryptocurrencies. While the problem itself is timeless, the tech community's drive to address it is a testament to human ingenuity. As we move forward, the legacy of the Byzantine generals will continue to inspire and challenge the technological world.