If your computer has a slow processor or little memory, then you've likely noticed. The user experience for these machines is frustrating and challenging at best. 
However, the opposite holds true when you invest in a high-performance laptop that boasts robust computing speed and plenty of processing power. Wondering how to shop for a laptop that delivers all of these features and more?
Today, we're sharing a few of the key considerations to keep in mind, and why these two capabilities top the list.
What Is a Laptop Processor?
Before we dive into how to shop for a good laptop, let's discuss the basics behind a few of the most important features. Computer processor speed is a critical consideration to research and compare as you begin to shop around for a new model. Both desktop computers and laptops contain a Central Processing Unit, or CPU.
Stored on a dedicated chip, your computer processor is the brain of the unit. It stores all of the information and intelligence that your machine requires to do its job well. This includes facilitating core functions, such as:
Internet surfing

Word processing

Video streaming and encoding

Gaming command response
As you might expect, a modern, updated processor will function at a higher level than an older, legacy-model one. With a great, well-functioning computer processor, you'll be able to enjoy lightning-quick speeds. Your computer is capable of "thinking" quickly, which means less lag time on your end. 
Today, all laptops come equipped with at least a dual-core processor. Some higher-end models amplify this feature with a quad-core CPU, which allows extended multi-tasking. If you use your computer for gaming, video editing, or other similar applications, you can even invest in a six-core or eight-core processor. 
Put simply, the more robust your processor, the bigger the "brain" of your computer. If you need access to basic functions for day-to-day work, then a standard dual-core model is usually adequate. 
Understanding Processor Clock Speed
When you perform a computing task, your laptop's processor core will receive those instructions. This activity takes place within the CPU. Once an action is initiated, the processor core will work with your machine's clock speed to process the data.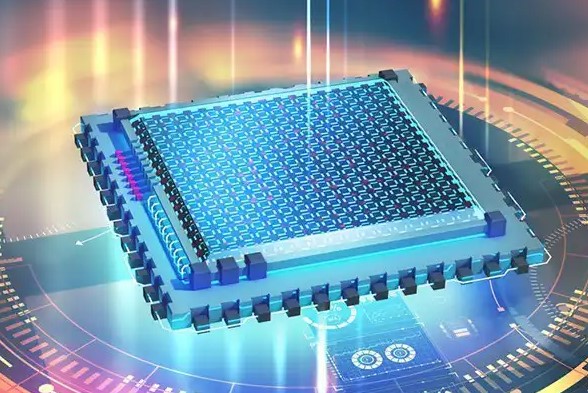 Then, it will store that information temporarily in your laptop's Random Access Memory, or RAM. If the data is permanent, then it will be saved to your hard drive, where it's accessible any time you need it. As mentioned, the more processor cores that your laptop includes, the more tasks you will be able to do at once. 
For instance, if you want to edit a video, update your social media accounts, and listen to music all at the same time, then you'll need a laptop with multiple processor core units. This one feature can extend your productivity at both work and home. However, it's all too easy to overload your device by expecting too much of it. 
This is where processing speed comes in. If you're wondering how to shop for a laptop computer, then this is a critical component to research. 
Laptop vs. Desktop Processing Speeds
The clock speed of your laptop dictates how quickly the CPU can receive and interpret individual instructions. The higher the speed, the more complexity it can accommodate, and the faster it will operate. Most laptops measure clock speed in gigahertz, or GHz. 
You can find clock speeds that range anywhere from 1.8 GHz up to 4 GHz and beyond. Higher numbers indicate higher speeds and vice versa. While you can find high-end laptops that boast impressive processing speeds, desktop models often include more power and flexibility. 
One impressive exception is the Intel Evo platform, which comes equipped with overclocking Intel processors that run at higher speeds than the rated 3.4 GHz. You can check it out online to learn more if you're searching for a high-performance laptop that's as fast as it is smart. 
The Role of Laptop Memory
When you're researching laptop speed, you'll also come across specs that detail the machine's memory capacity. If you've ever been hit with the unwelcome message that your computer's memory is full, then you know that this is a key capability.
When we talk about memory, we're focused on the short-term data access that your laptop can provide. This is usually referred to as RAM, or Random Access Memory, though it can be labeled in other terms, such as:
Dynamic Random Access Memory (DRAM)

Synchronous Dynamic Random Access Memory (SDRAM)

Double Data Rate 2

Synchronous Dynamic Random Access Memory (DDR2)
There are many laptop functions and operations that require RAM access, and your machine can read RAM in any order. While processing power is dictated in gigahertz, RAM is noted in gigabytes (GB). Most laptops include a standard range of 8GB to 16GB, though there are high-speed laptops that include much more. 
Even if you never run a single application on your laptop, the machine itself will still use up some RAM just by simply being plugged in. For example, if you're running a Windows 8.1 operating system on a 32-bit system, then the device will take 1GB of main memory. If your system is a 64-bit one, then basic processing will require 2GB. 
What Is RAM Access Speed?
In addition to working data, your laptop also uses memory to store essential machine code. You need both memory and a CPU to achieve a functional device. The processor is responsible for performing basic operations, including:
Logic

Controlling

Input/output
To perform these functions, it has to access instructions, and those instructions are stored in the memory. Every time your laptop's CPU retrieves, decodes, and performs a specific operation, that process is known as the instruction cycle.
RAM access speed refers to how long this cycle takes to be completed. Most manufacturers indicate this speed in megahertz (MHz). For reference, a standard laptop access speed is usually around 800MHz.
How to Shop For a Laptop With These Features 
Now that we've covered how core processors and laptop memory work, let's dive into another important question: How do you know which laptops have the best capabilities?
There are a few steps to keep in mind, so let's review them individually.
Step 1: Consider Your Computing Needs
If you just need a laptop to cover basic word processing and internet browsing, then your CPU and memory needs will be far less than someone who requires a robust machine for gaming. 
If you fall into the latter category, then look for a laptop that comes equipped with multiple core processors. This way, you can rest assured that the key functions of your machine won't be compromised at any time, even if you're in the middle of an intense gaming session. Otherwise, a basic dual-core processor should be enough to cover everyday computing needs.
Memory-wise, most users will be fine to stick with between 8GB and 16GB of RAM. However, if you're creating a more high-end workstation, then look for a laptop that boasts at least 16GB of RAM or more. Keep in mind that you can upgrade your system to a higher RAM capacity if your needs grow down the road. 
Step 2: Create a Budget
Understandably, some of the more powerful laptops will come at a higher price point than lower-quality alternatives. If you need ample processing power and plenty of memory space, then you can expect to spend a little more. However, the trade-off is that these machines typically last longer and require less maintenance than others. 
Before you even begin comparing price tags, start by setting an overall budget for your next laptop purchase. Then, look for models that fall within your preferred price range, keeping your RAM and processor requirements in mind. It's essential to consider the kinds of tasks you need to work on.
If you work in IT or design, you have to be willing to spend on a higher-end model. Mid- to lower-range laptops offer fewer features but are still powerful enough to cater to your basic needs. Most brands have a diverse line of laptops that suit your budget. If you already know how much you're willing to spend on a new laptop, try considering this brand of Windows laptops and accessories.
Step 3: Research Processor, RAM, and Hard Drive Specs
In addition to processing speeds and RAM storage, it's also important to check the hard drive specs of any laptop you're eyeing.
While most laptops will feature a hard drive that's at least 250GB, some high-powered ones can be much higher. You may even find hard drives measured in terms of terabytes (TB), which stand for thousands of gigabytes! 
As mentioned, you'll usually get what you pay for in terms of all three of these capabilities. The more robust your laptop is, the quicker it will run and the more applications you'll be able to open simultaneously on it. If you anticipate needing your machine to perform at this level, then it's worth investing in a high-quality model that's up to the task. 
Find a High-Performance Laptop Today
Wondering how to shop for a laptop? Whether you need one for personal or professional use, t's important to take the time to research available models before committing to a purchase. 
As you compare the various specs, processor speed and memory should be top of mind. These components make up the brain and activity behind your machine, and they're responsible for keeping it running at top capacity.
While you browse, be sure to check back often for more tech-focused news. We've got plenty of informative guides on our site, and we're here to help you embrace these tools with confidence.