Looking to go solar but not sure where to start? Solar energy supplies around 2.8% of the electricity produced in the United States.
Installing residential solar panels is a great way to go green, save money on your energy bills, and feel good about helping the environment. For this reason, more and more homeowners are opting for solar panel installation. But if you've never purchased or installed solar panels before, it can feel overwhelming to get started.
One of the best things that you can do to feel more comfortable with the residential solar panel installation process is to do your research. The better prepared you are, the less overwhelming the entire process will be. In this guide, we'll walk you through all aspects of residential solar panel installation.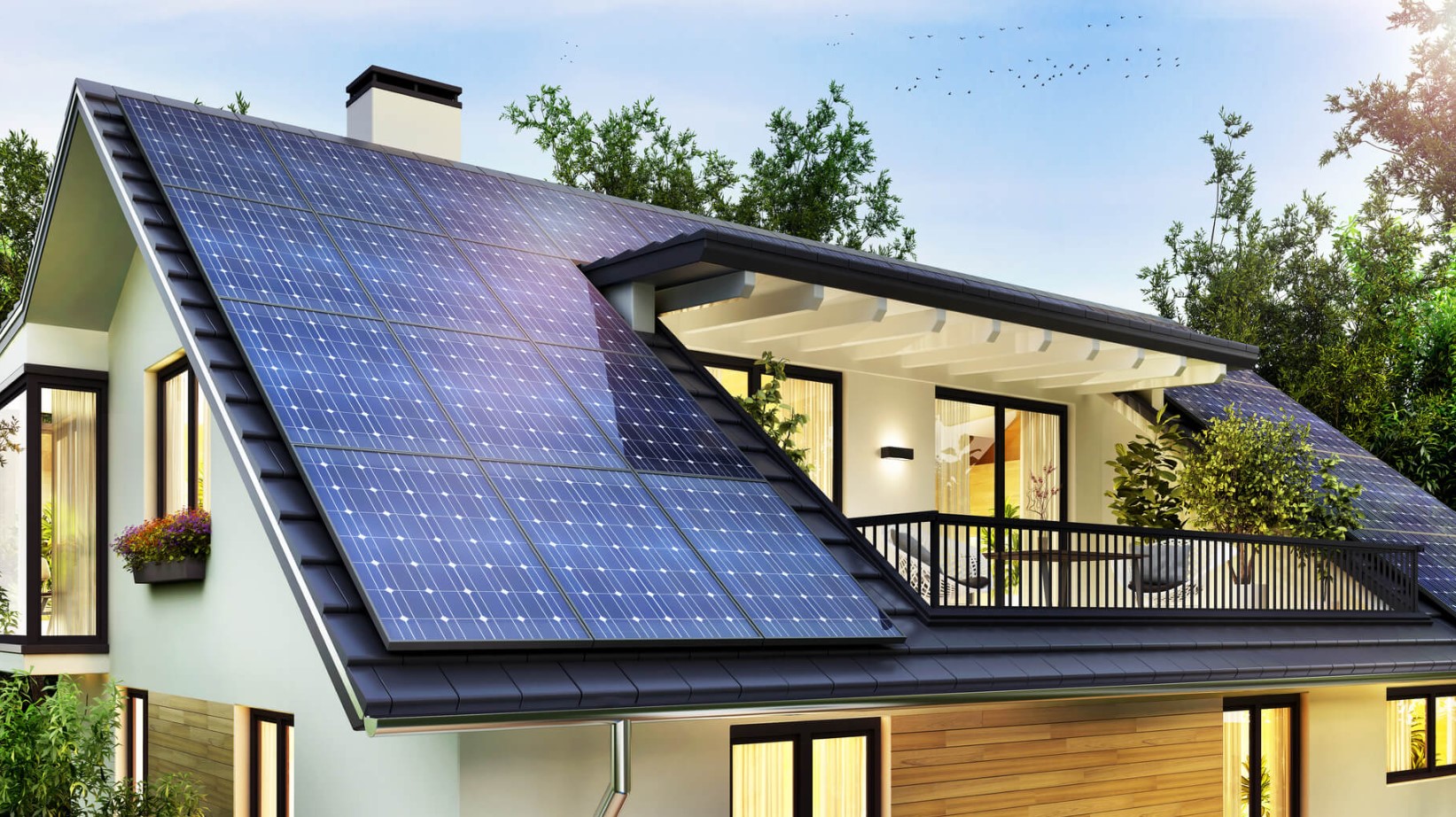 Benefits of Residential Solar Panel Installation
The installation of residential solar panels can bring many benefits to homeowners. You may be considering going solar but need a push to take the first step. Let's look at the advantages of installing a solar power system on your property.
Lower Your Energy Bills
Solar panels will reduce your dependence on expensive conventional energy sources such as electricity, gas, and oil. Installing solar on rooftops in residential areas is a cost-effective solution for converting sunlight into electricity throughout the year for use in the home. This allows homeowners to reduce their monthly electric bill since the system is powering their home's energy needs from the sun.
Tax Incentives
A major factor in the cost of solar panel installation is the cost of the hardware itself. Tax incentives can help offset the cost of purchasing this hardware and installation.
These incentives come in the form of energy tax credits. This can reduce the total amount of tax liability by up to 30%.
Solar panel installations may also be eligible for federal grants. These grants can also be used to reduce the out-of-pocket expenses associated with solar panel installation.
Increase Your Property Value
Installing solar panels provide energy independence which can increase the appeal of a property. Solar panels can also yield trade-in value when selling a home.
Many homebuyers are looking for homes that are energy efficient. Having solar panels installed shows potential buyers that you have taken the initiative to upgrade your home and make it more energy efficient.
Installing solar panels on your residential property can help attract potential buyers if the home is on the market. This increases the chances of selling the property faster.
Promote Environmental Sustainability
Solar panels provide a clean, renewable source of energy that does not produce greenhouse gasses or other harmful pollutants. This can be used to supplement other resources, such as oil and gas, reducing their contribution to global climate change. Using renewable energy sources can help reduce the burden on overworked power grids and promote energy efficiency.
Reliable Home Power
Solar energy is free and renewable. Once the panels are installed, they will provide free electricity for years to come. These installations have a very low maintenance requirements, which ensures reliable power for your home over time.
Solar power helps reduce dependence on electricity from the grid, allowing for greater self-sufficiency. It can even produce power during grid outages. It gives homeowners peace of mind knowing their power won't come to a halt if a utility issue.
Selecting a Qualified Solar Installer
Finding a qualified solar panel company is a critical step in the solar installation process. Taking all the factors below into consideration will help ensure that your solar panel installation is handled professionally and correctly, providing a better return on your investment.
Identify the Right Qualifications
It is important to ensure that the installers you choose are certified and experienced. Ask the potential installer what experience they have installing solar panels, how many successful installations they have done, and if they have any specialized training.
You should also ask for a portfolio of their previous work, as well as customer references. It's important to check that the installer is following all local building codes and regulations.
Find the Best Product Pricing
Exploring different solar installers' pricing models can help homeowners check potential savings and return on investment, comparing how different installers stack up. Be sure to ask for detailed pricing information, including any hidden costs, fees, or extra charges, so that nothing slips by. You can hone your expertise in solar by getting many quotes from a few solar installers can help to ensure the homeowner is getting the best possible product pricing.
Verify Credentials and Licenses
Although solar installers do not need to be certified to install solar systems in some states, certified installers generally represent a higher level of training and experience. To ensure a safe and reliable system it is beneficial to find a certified installer from a trusted organization such as the North American Board of Certified Energy Practitioners (NABCEP). It is also important to ensure the installer is licensed to work in your area and to follow the electrical code for your city or state.
Cost Estimation for Solar Power System
Solar panel installation prices vary depending on the system's size, the equipment's quality, and other factors. It's important to shop around and get estimates from various providers. There are many online resources to help you compare prices so you can find a solar panel installation that works for your budget and needs.
Size
The size of the system installed will dictate the output of the solar power system and its effectiveness. Larger systems will be more expensive to install, but they may offset that cost by producing greater output.
Smaller systems will be cheaper to install, but they may need to be supplemented with other power sources to get the same amount of power. Depending on the size of the system, the installation may need extra components like mounting racks and inverters, and these can increase the cost.
Location
For residential customers, costs vary based on the average labor and installation materials prices. In areas with lower energy costs, installation costs tend to be lower as the cost of electricity is lower. For other areas with high energy costs, installation costs tend to be higher.
In some cases, the cost can also be affected by the infrastructure of a customer's property. If a home requires a significant amount of work to make it ready for solar panels, the cost of installation can be higher than average. The precise cost of a solar panel installation will depend on the particular characteristics of the location and property.
Labor
Labor costs are a major factor in estimating the cost of residential solar panel installation. This includes many items, such as the time it takes to design, install, and maintain the system.
Labor costs include the wages for the installers and technicians, as well as any material or equipment necessary for the installation. This can also include any specialized tools, materials, or safety equipment used for the installation.
Some states have laws on installing labor costs. It is important to be aware of the implications associated with this cost when preparing a budget.
Steps for a Smooth Solar Panel Installation Process
The solar panel installation process can be complex. Following these steps should ensure a smooth solar panel installation.
Prepare Your Property for Solar Installation
Before installing solar panels, it is important to take certain steps to ensure the process is as smooth and successful as possible. Make sure the installation site is free of debris by clearing away any obstructions, such as overhanging trees or other large objects. Check the roof space for signs of structural damage that could raise installation costs.
Measure the roof space available to determine the number and size of panels required for the project. Determine the placement of the roof-mounted panels.
Choosing the Appropriate Solar Panel System
When selecting the proper solar panel system for a smooth installation, it is important to consider the location, the size of the system, and the type of panel. It is crucial to have the right roofing type and angle to install solar panels properly. After the size has been calculated, it is important to select the right type of panel.
The panel type must align with the area's climate and the available size. During the installation process, it is important to make sure that the panels are connected and secured.
Before beginning installation, research local regulations about solar installations. This includes knowing what type of permits and approvals are necessary. Check with the local regulatory body to ensure that all necessary paperwork is complete and that any electrical or other code requirements are met.
Ensuring a Smooth Solar Panel Installation & Proper Testing
Taking the necessary steps for testing before and during installation can help streamline the entire procedure. A technician should comprehensively test the customer's existing power system.
This ensures the panels will be compatible and integrated with the current setup. Quality assurance tests should also be completed to ensure the solar panels will perform with the customer's system.
Consider Residential Solar Panel Installation
Installing residential solar panels is a great way to reduce your carbon footprint and save money in the long run. With this ultimate guide, you now have the knowledge and understanding to start the process. So, don't let fear hold you back from taking the green leap, and contact a professional now to learn more about residential solar panel installation!
Looking for other ways to improve the comfort and efficiency of your home? Read more coverage on our home improvement blog.