How to get skillshare premium for free
Skillshare is an online learning community where you can learn any skill you want by watching the provided course videos and materials. It provides you will thousands of course videos and series from which you can learn and gain the required skills. Skillshare provides both free and paid subscriptions for its users. It has a user-friendly and straightforward interface that makes it easier to navigate through. Skillshare's teachers are professionals who have expertise in various fields.
A wide variety of courses including not only IT and tech fields but also other fields including business and entrepreneurship, filmography, photography, literature, design, and more are available in Skillshare. Skillshare is an e-learning platform for people who want to learn and for people who want to earn. It is a gathering place for students, freelancers, and educators. But is it possible to grab skillshare premium access for free?
You can access any of the free courses of skillshare, create and discuss projects with a free subscription account. Skillshare provides you with a paid subscription that consists of additional features and courses but it charges a certain amount for it. Today we are going to discuss how to get a free premium account of skillshare. You will learn an easy method to get a 2-month skillshare premium account for free in just a few steps.
Skillshare provides a paid tier known as skillshare premium that provides you with unlimited access to the paid courses on the skillshare learning platform. Skillshare provides you with a shared learning experience that allows you to collab with others and learn in a group. With a premium subscription, you can save your tutorials and materials for offline purposes. You can access an advertisement-free learning environment to prevent pauses in your deep learning session.
If you have purchased annual membership of skillshare premium then you can access additional perks and benefits. You can grab discounts, get free subscriptions on various services. Various tools and services like Invision, FreshBooks subscriptions are provided for free for a certain time period. Do you want to get a skillshare premium and for free? Don't worry we will provide you with an easy process for getting a premium skillshare account for free.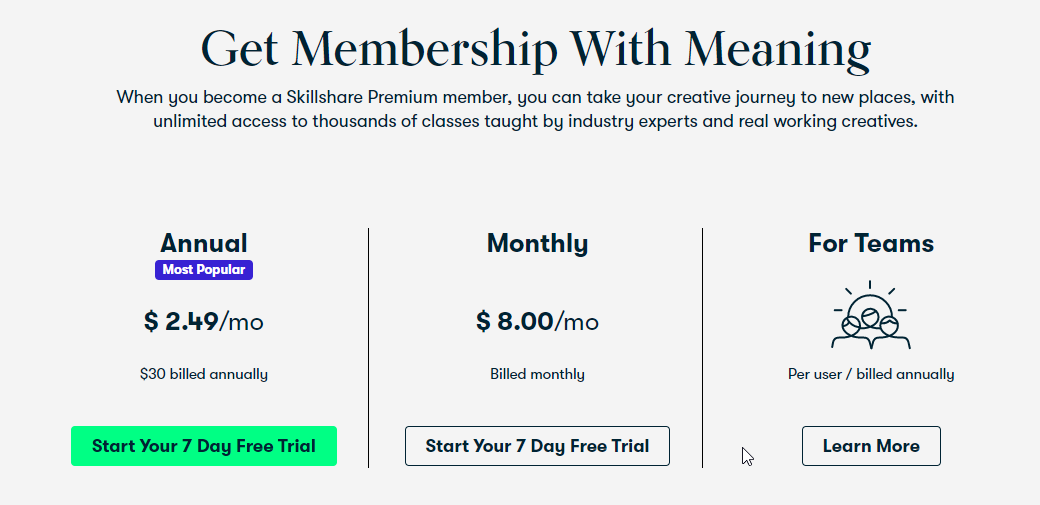 Skillshare provides three types of subscriptions. Pricing differs per the tiers you choose. The plans and pricing of skillshare subscriptions are given below.
Free subscription: You can just signup with your email address and get free access to 2100 courses from various fields in skillshare free. You can share and discuss your projects in your community and gear up your skills.
Monthly subscription: Skillshare provides a monthly subscription plan which costs $8 USD per month. You can get access to unlimited ad-free content and you can also save your course materials for offline access.
Annual subscription: Skillshare annual plan costs only $30 i.e $2.49 per month when it is billed annually. You can get access to all features you get with a monthly subscription along with additional perks which include huge discounts and free access to certain platforms.
Skillshare premium free tier has a difference in services and accessibility. Here are some of the major differences which you can check out.
| | |
| --- | --- |
|   Skillshare premium subscription |   Skillshare free plan |
|  You get unlimited access to 20k plus course materials. |   You can access 2100 free classes and tutorials. |
|  It is ads-free. |   It isn't ads-free. |
|  You can save courses and tutorials for offline access. |   You cannot save courses for offline access. |
You get access to a large number of learning and practicing materials for such reasonable pricing. It is definitely worth it and you can get a skillshare premium for free with our method so there is no second thought for its worthiness.
We will discuss the method to get a skillshare premium for free without entering credit card details. You will only require a valid edu email for getting this offer and get a free 2 months of Skillshare premium subscription.
You can get a 2-month free skillshare premium account with help of your institutional emails. You can follow the process given below to get a skillshare premium account for free.
You need to have edu email at first in order to get a skillshare premium for free. You can check our Edu email method to get it for free.
After you have your edu email, you can now proceed to the skillshare school verification portal to redeem the offer in order to access a premium subscription. Enter your educational or institutional email and click submit.
After that, it will send a verification email to your email address.
Click on redeem option to get a free skillshare premium subscription account.
Now signup with the same email address which you have entered.
After that select blog post and click activate and you will get a free skillshare premium account.
You can now access the premium feature of skillshare for free.
Skillshare is an interactive learning platform that allows you will meet up with creative minds from your field of interest and allow you to gain real-life skills. I hope this article helped you to grab such a service for free and provide you with one small push in your long learning journey. I hope you grabbed a skillshare premium account for free with our method. If you have any questions then leave a comment below and don't forget to share it with your friends and family.