Why Cloud Sync?
Cloud sync is a very convenient function, and it means the synchronization between devices for files that live on cloud storage. Cloud sync keeps the same set of files and folders on users' devices and cloud storage. It can update data in the destination once files or folders are updated in the source. It provides great flexibility for remote work, particularly when team members are in different time zones. 
For individuals, cloud sync could sync files, such as photos, videos, sheets, and documents, to be accessed across different registered devices. For organizations or groups, cloud sync ensures that everyone in the group can get the latest shared files or documents at the same time across their devices. For example, if new photos are uploaded to a family's shared folder, then all family members will get access to photos/will be able to get photos. For enterprises, cloud sync provides a path to robust collaboration by allowing project team members to get the latest files and updates as needed. This significantly increases flexibility while minimizing issues with version control.
Cloud Sync is useful if you have a sync need. One-way sync and two-way sync can meet different sync needs. Services like Google Drive and Microsoft OneDrive allow the editing of the same document by multiple users simultaneously, better-facilitating team collaboration. There are also native and third-party sync services for users who own too many cloud storages without online editing.
What is MultCloud?
MultCloud is a leading service that can help users achieve cloud transfer, cloud sync, cloud backup, and cloud management easily and smoothly. It supports over 30 cloud drives, and you can manage all your cloud drives in one place such as Google Drive, OneDrive, Dropbox, Google Photos, SharePoint, Box, pCloud, OneDrive for Business, Dropbox Business, MEGA, and Flickr. It's very easy and friendly to use especially for those who know nothing about IT.
Benefits of MultCloud's cloud sync function:
Sync in real-time, and immediately update content when source data are modified.

Web-based service without occupying any space on your computer or mobile device.

Great flexibility for remote work.  

256-bit AES Encryption can 100% protect your data.

Instant email notification when finish the task.
How to Sync between Cloud Storage with MultCloud?
Google Drive and Dropbox are popular among all cloud storage devices, and you may use them at the same time because of their different advantages. So, I will take the example of Google Drive and Dropbox, and show you how to use MultCloud to quickly sync between them.
Sign up for your MultCloud account. If you don't have an account, you can create one with your email or sign in with the account of Google or Facebook.
Move to the left bar and press the "Add Cloud" button. Then, log in to your account on Google Drive and Dropbox.
Choose the button "Cloud Sync", and choose Google Drive as the source, and Dropbox as the destination. Click" Sync Now", and MultCloud will begin the task immediately.
That's the whole process of cloud sync between Google Drive and Dropbox. It's very easy, right? Of course, you can choose any cloud drive you want to sync. For instance, sync Dropbox to OneDrive or box to Google Photos, it's just a simple task. 
Taking advantage of MultCloud would save your precious time because you don't have to download and upload the file. Here is a very handy function where you can set a schedule for cloud-to-cloud sync. You can choose a daily, weekly, or monthly schedule to sync between cloud services automatically.
Besides, you can set the email option. As long as the sync task is finished, MultCloud will send you an email immediately.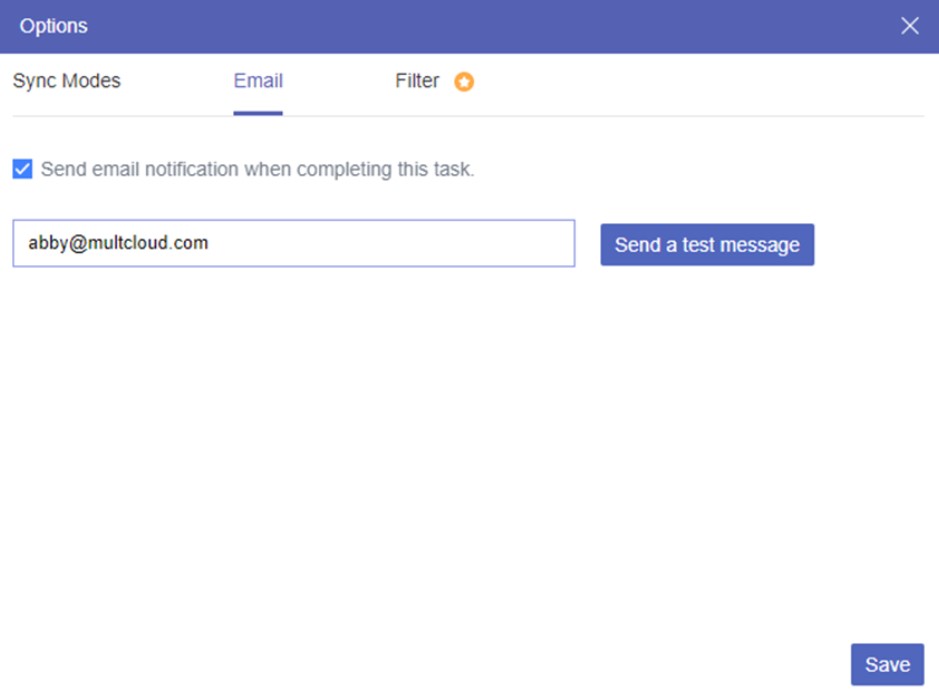 Final Words
Cloud sync is really a practical function for those users who struggle with the problem of syncing cloud services. Besides, it is also a free backup software. With the help of MultCloud, you can easily sync between multiple cloud storage through a single click. At the same time, it offers 5GB of cloud-to-cloud data traffic per month for free users to transfer, backup, and sync files between different cloud drives. 
In a word, MultCloud is a really handy third-party cloud manager if you need to sync files across cloud drives.